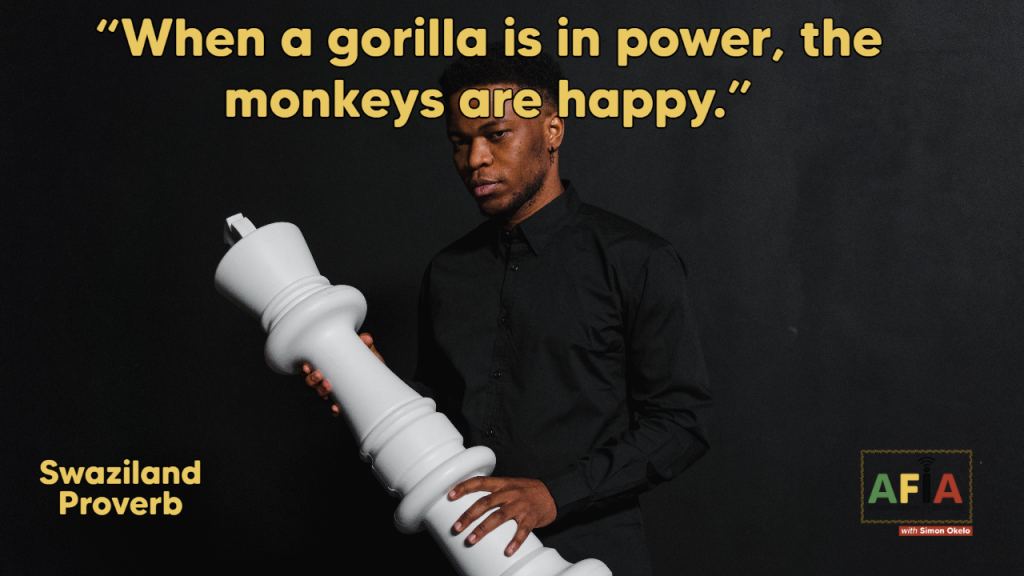 A leader is someone others look to for guidance, direction, and inspiration. But what qualities make a good leader? This blog post will explore a leader's three most essential attributes:
Awareness,
Fairness, and
Humility.
Greetings Village!
#DailyAfricanProverbs takes us to #Swaziland
The Proverb says: "When a gorilla is in power, the monkeys are happy."
When thinking about a strong leader, most people imagine a charismatic or powerful individual. However, in gorilla society, the true mark of a successful leader is the happiness and well-being of their followers. A "silverback" gorilla in power will protect and provide for his group of monkeys, ensuring they have enough to eat and keeping them safe from danger. In turn, the monkeys show respect and loyalty to their leader through grooming and submissive gestures. While there may be periods of tension and aggression between rival gorillas vying for power, overall the troop thrives under a strong leader. So next time you see a group of monkeys cheerfully swinging through trees, it's likely thanks to their wise and benevolent gorilla leader.
Awareness
As the Swaziland saying goes, "When a gorilla is in power, the monkeys are happy." In other words, as a leader, you should always be aware of your surroundings and the people you lead. You should make sure that everyone is happy and content. However, it doesn't mean that you should be pushovers; instead, you should be able to strike a balance between being firm and understanding.
Fairness
Leaders should be fair and just in their decisions. It would help if you did not show favouritism to specific people or groups. It cannot be accessible at times, but it's important to remember that everyone deserves to be treated equally. If you show favouritism, it will only breed resentment among those not receiving special treatment.
Humility
Lastly, leaders should be humble and listen to the advice of their advisors. No one knows everything, and even the best leaders need help from time to time. Be humble and open to suggestions: you can learn from your mistakes and become even better at your job.
These are just three of the many qualities that make a good leader. If you have these qualities or are working on developing them, you're well on becoming an effective leader. Remember, though, that leadership is not about perfection; it's about constantly striving to improve and being the best.
Join us on #AFIAPodcast to listen to our latest episode at 6 am PST/4 pm EAT
Share your thoughts on this proverb in the comments below.
SUBSCRIBE to get Daily African Proverbs and their meaning in your life https://rb.gy/jdavpn
******************************
📱 LET'S GET SOCIAL
💢 🅵🅾🅻🅻🅾🆆 🅼🅴 🅾🅽:——-
💖 INSTAGRAM: https://www.instagram.com/okelojavan/
💖 Twitter: https://twitter.com/OkeloJavan
💖 Facebook: https://www.facebook.com/OkeloJavan/
💖 TikTok: https://www.tiktok.com/@okelojavan